CONTACT DETAILS:
Phone: +44 (0) 2871309151
Email: info@bridgebnb.com
Address: 3 Dacre Terrace, Derry, BT48 6JU, United Kingdom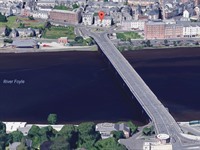 Location & Parking
Bridge B&B is located right at the end of the Craigavon Bridge and joins Carlise Road with Abercorn Road. Please use the upper deck of the bridge if arriving via the A2 (City of Derry Airport), A6 (Belfast) or A5 (Strabane / Omagh / Dublin).
We have several options for parking, there is on street parking available on either side of the property, both on Abercorn Road and Carlisle Road.
There is also Foyle Road public car parks within 50 yards which cost around £0.30p per hour during normal business hours are is free overnight.